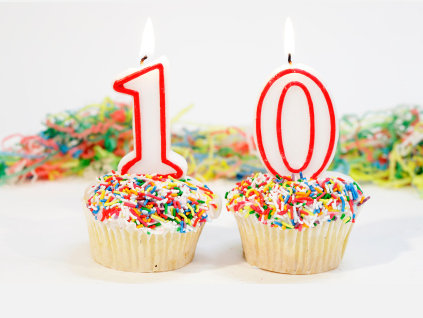 This week marks my tenth year in ministry. In other words, it's my tenth year working in a church full time. Just like everything else in life, there's up's and down's....good's and bad's.
I certainly have a lot to learn and much more to experience, but after ten years, you do gain a little wisdom and insight in your field. So, on account of it being 10 years, I thought I'd share 10 things I've learned in my time...
1. BE LOYAL
Anyone that knows me well, knows my feelings about loyalty. My dad has been in full time ministry my entire life. The big piece of advice he gave me from the beginning was, no matter what, be loyal to your leader. I held to that and have never regretted it, and my leaders haven't regretted it either. In fact, they've valued me more, based on my loyalty. How can you expect to have a voice if your leader doesn't trust you. Andy Stanley once said that public loyalty leads to private leverage. Loyalty is essential to any team and you'll be a more valuable teammate the more loyal you are. Remember that loyalty is not agreeing with your leader. It's supporting your leader, even when you don't agree.
2. LOVE GOD
It seems strange to have say this, but as church leaders, we need to make sure we love God. To love God means to obey God and worship Him. To make Him our joy and to find satisfaction ultimately in Him. Tragedy strikes churches all the time in the form of church leaders failing morally. The reason is because they lost sight of their first love...God. Motives are everything. If God is the focus of our heart, our motives will remain right and our obedience and worship will be passionate. Our families and churches will benefit greatly, because we love God.
3. LOVE PEOPLE
Ministry is about people because ministry IS people. You may have heard the saying, "Ministry would be so much easier if it wasn't for people." That's what we call an oxymoron. That's what I had to learn the most. My first years, a lot of my focus was on how I could impact people from the stage. The more I learned and grew, the more my focus became impacting people off the stage. I flipped it. I realized that my impact on the stage would be determined by my impact off the stage. One day I will lose my ability to impact people from the stage, but I'll never lose my ability to impact people off the stage. There will always be someone to encourage, to help, to disciple and to love. Like it's been said....you can't have passion for Jesus without compassion for people.
4. FAMILY FIRST
You've probably heard this a million times...put your family before your ministry. I think I'm in a generation that really gets that. The reason its more of a focus now is because, unbelievably, there were years in the past where church leaders were trained to put the church before their family and it shows. Very sad and very unbiblical. I've also learned why to keep family first. In my first year of ministry, my pastor looked at me and told me that his wife is truly the only person he could trust. At first, that may sound like he has trust issues, but it's not. He simply learned that church members will not always have your back, because they're human beings. He had a lot of "burn marks" from years in the ministry. At the end of the day, you learn that your family will be there for you. Your spouse will sometimes be the only one you feel you can trust. That alone has motivated me to keep my priorities right and keep my family first.
5. GALATIANS 1:10
My first church put me through the ringer. I certainly made some mistakes, being green and new, but they fought me tooth and nail for my two and half years I was there. There's good people that will encourage you at every church and I certainly had people that encouraged me there. The church as a whole simply didn't want to change and sadly they were very resistant to the idea of WORSHIP. That made being a WORSHIP LEADER a challenging position and mission. I had no "honeymoon". They were on the attack from day one. This certainly made me question the vision I knew God had given me. One day, in my study of the Word, God gave me a verse and ultimately an answer.
"

Am I now trying to win the approval of human beings, or of God? Or am I trying to please people?

If I were still trying to please people, I would not be a servant of Christ.

"
-Galatians 1:10 NIV.
God basically told me, through His Word, to keep going and to keep my eyes on him. My pastor and I grabbed that verse and internalized it. We agreed that if it was just he and I worshiping in the service on Sunday mornings...so be it. That meant a lot and because I stayed focused on the God-given vision, I've been able to see it come to fruition in the last several years.
6. MATERIALISM KILLS
I wish I could sit here and talk about how, even though the love of money has infiltrated our society, church leaders have resisted its charm. I wish I could say that all church leaders cared more about people instead of power. Unfortunately, the allure of money and power have overtaken a lot of people who call themselves "Men of God". This has led to major trust issues between people and the organized church and has killed any kind of Kingdom focus in the heart of the church leader. When the amount that comes in the offering plate controls the mood of the church leader, then you know where the heart is. It's a sin. As someone who gets a paycheck from a church, I have learned to constantly check my heart and make sure that becoming wealthy never becomes a goal or passion in my life. God forbid. Materialism is gross. I've strived to be less and less gross.
"

Do not lay up for yourselves treasures on earth, where moth and rust destroy and where thieves break in and steal;

but lay up for yourselves treasures in heaven, where neither moth nor rust destroys and where thieves do not break in and steal.

For where your treasure is, there your heart will be also.

"
- Matthew 6:19-21 NKJV
7. LEADERS ARE READERS
Not all readers are leaders, but all leaders should be readers. Reading makes you smarter...the more you read, the more you learn and grow. The books on my shelf have shaped me in so many ways. A full book shelf can be an education. You should never stop growing. You will never arrive this side of Heaven. We can always grow and learn something new. As church leaders, we obviously need to be readers. The Word of God is alive and waiting for us to open our eyes, ears and hearts to the voice of the Lord. The study of God's Word has given me more vision and fueled my ministry more than anything else. There's nothing better I could consume and then, in turn, give to my church than God's Word.
8. WHAT NOT TO DO
I've worked with several people in ministry in the last ten years. Mostly great, but there's been a few that have severely missed the mark in leadership and integrity. The first thing I had to do was forgive those that had only thought of themselves by being disloyal to the leader and pastor and ultimately hurt the church by causing dissension, which, by the way, is a big no-no according to God. The next thing was to learn from their mistakes. In other words, learn what not to do as a leader. I've learned that knowing what not to do is just as valuable as knowing what to do.
9. UNDESERVING
When I first got hired as a worship leader, I turned to the pastor, thanked him and let him know that I didn't deserve to have the job. I know God called me there, but I also knew I was undeserving of the position. In that same moment, I prayed silently that I would never forget that I did not deserve to be in ministry. Only by the grace of God can I call myself a church leader. Show me a church leader that has issues with pride and materialism and I'll show you someone that has fooled themself into believing that they deserve their position. That entitlement mentality messes leaders up. How can we ever look at the cross and say that we deserve any sort of blessing in our life? We just don't deserve it. Glory be to God alone.
10. MAKE YOUR MINISTRY BIGGER THAN YOURSELF
I ask myself, "If I died today, would the ministry that I lead continue on strong tomorrow?" My goal is to say yes. How sad would it be to know that the very thing I'm leading will die when I die? Success for a leader is leading something to be bigger than him or herself. Churches that are built and sustained on someone's personality are setting themselves up for eventual failure. As a worship leader, I know I've done what I'm supposed to, when the church worships with or without me on the stage. This takes a lack of pride and intentional empowerment of leaders under you. Leaders short change their organizations by passing the torch too late and or eventually having it ripped out of their hands. My desire and goal as a leader is to see my ministry grow to where it is independent of me. That's making a lasting difference.
I'm so thankful for what I've experienced and I hope I keep learning in the next ten years, more and more.