Integrity Music Description:
July 12, 2011 -- All Sons & Daughters, the Franklin, Tennessee-based duo of Leslie Jordan and David Leonard, released their debut EP Brokenness Aside today. The six-song EP, which features the song "All the Poor and Powerless," is available at all major digital service providers including iTunes and Amazon, with the iTunes EP including a bonus song, "Reason We Sing,"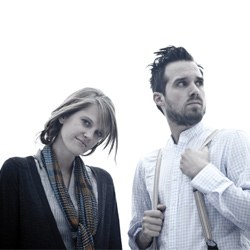 I really, really like this album. I have found myself listening to this album in the car very often. I can say that I honestly love every song on this EP. I preface this by saying that all the songs are distinct. There are some artists that seem to keep rewriting the same song. This is not the case with All Sons and Daughters. I really can't honestly tell you which song is my favorite. They're all great. I would say that they resemble the feel of The Civil Wars, so if you dig them, you most likely will like All Sons and Daughters.
It's real simple. Just go get the EP and enjoy the whole thing.

Click here for Itunes
to purchase "Brokenness Aside" today.