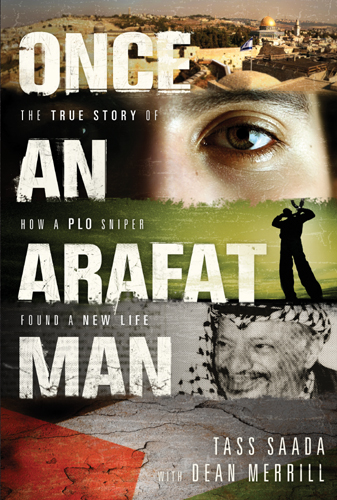 Once an Arafat Man
by Tass Saada
This past summer, I went to a worship conference and became friends with a worship leader and fellow blogger named
Ben
. During the week he gave me a copy of this book called, Once an Arafat Man. Turns out the author is his father, Tass Saada. Finally, this past month, I got around to reading the book, and I couldn't put it down.
The book starts with this crazy, intense battle scene in Israel. Tass, a Palestinian and Muslim, grew up being taught to hate Israel and the Jewish people for taking their land when he was a child. This hatred grew, and Tass eventually joined a radical army under the leadership of a new leader named Yasser Arafat.
The book, for me, has 3 sections:
1) Amazing, manly war story of a young, devoted soldier.
2) 1970's chick flick.
(Where Tass goes to America and meets his future wife.)
3) Transformation from hate and war to love and peace through Jesus Christ.
The story's are incredible and gripping of how he grew in the ranks of Arafat's army. Starting as a teen radical, then quickly becoming a valued sniper. The stories of his transformation through Christ are equally gripping. In his incredible conversion experience, he explained,
"...not everyone's conversion to faith in Jesus Christ is quite so spectacular or dramatic. But a high percentage of Muslims who come to faith in Christ do so because of a vision, dream or other supernatural experience."
I personally love how the Holy Spirit is so real and tangible to Tass. Though I haven't met him personally, after reading this book, I can truly see that he is a man of real faith.
Like I said, I couldn't put it down. It's very well written and laid out. This is a book that all kinds of people would enjoy and be inspired by.
Click here
to purchase it.